GOSHEN, IND. –– This week, River Bend Film Festival, a three-day international film festival celebrating the art of independent filmmaking based in Goshen, Ind., released its full lineup for the 2018 festival. From May 3 through 5, film lovers and filmmakers from...
read more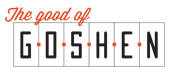 For a comprehensive guide to what is good in Goshen, check out
The Good of Goshen
web site for stories about Goshen, things to do and places to go.
2019 River Bend Film Festival Sponsors

Allen Brenneman • Celtx • Common Spirits • Flowers By Phoebe • Goshen Motors • Greensweep Cleaning Services • Lesson.ly • The Local • Salon J • Vinyl Wagon Crew • Weston Fribley • Woodstar Photography • Yoder Culp Funeral Home
This project is made possible by the support of the Indiana Arts Commission, and the National Endowment for the Arts, a federal agency.
And a special thanks to our 2019 Festival hosts