From the big screen to YOUR screen, the 19th annual River Bend Film Festival has everything a movie lover could want. And this year, you don't even have to leave home to enjoy it! The 2020 film festival will run from October 1 to 3. Due to COVID-19-related health and...
read more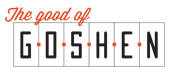 For a comprehensive guide to what is good in Goshen, check out
The Good of Goshen
web site for stories about Goshen, things to do and places to go.
2019 River Bend Film Festival Sponsors

Allen Brenneman • Celtx • Common Spirits • Flowers By Phoebe • Goshen Motors • Greensweep Cleaning Services • Lesson.ly • The Local • Salon J • Vinyl Wagon Crew • Weston Fribley • Woodstar Photography • Yoder Culp Funeral Home
This project is made possible by the support of the Indiana Arts Commission, and the National Endowment for the Arts, a federal agency.
And a special thanks to our 2019 Festival hosts