GOSHEN, IND. –– This week, River Bend Film Festival, a three-day international film festival celebrating the art of independent filmmaking based in Goshen, Ind., released its full lineup for the 2018 festival. From May 3 through 5, film lovers and filmmakers from...
read more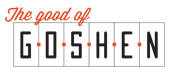 For a comprehensive guide to what is good in Goshen, check out The Good of Goshen web site for stories about Goshen, things to do and places to go.
2018 River Bend Film Festival Sponsors
Acruity • Art of Massage • Blank Space • Celtx • Constant Spring • Elephant Bar • Elko Hardwoods • Eyedart Creative Studio • Flowers By Phoebe • Froggy Radio • Gateway Cellar Winery • Greensweep Cleaning Services • Kelly Jae's Cafe • LightBox • Los Primos • Maple City Market • Mid America Filmmakers • Nimble Wit Productions • Quality Inn • Studio Ace of Spades • Tympanum Press • Weston Fribley • Zehr Construction
This project is made possible by the support of the Indiana Arts Commission, and the National Endowment for the Arts, a federal agency.