Fun for the whole family – all year long.
Are you new to Goshen? Welcome!
In addition to the Film Festival, Downtown Goshen hosts events throughout the year and we'd love to see you there. Below is a list of upcoming events scheduled for 2017.
For additional concerts, parties, and all-around fun, check out the Good of Goshen Events Calendar.
Friday, May 5
In May, Goshen will be rich with flavors from around the globe. We'll celebrate the beautiful assortment of influences that make Goshen so uniquely delicious. Whether you're a novice jogger or a veteran marathoner, we invite you to participate in the Green Day 5K.
Friday, June 2
To celebrate First Fridays' 10th birthday, we're blasting into summer with free concerts on the Courthouse lawn and our annual sidewalkdecorating event, Chalk the Walk. You and the kids are all invited to use chalk to turn our downtown sidewalks into whimsical and colorful masterpieces!
Saturday, June 17
From the Powerhouse Station to the Hawks Building, Goshen's beautiful Millrace trail transforms into an outdoor gallery, showcasing fine art ranging from painting to woodworking to metalwork, and so much more. There will be live music, dancing, food vendors, and beer / wine to make for a lively celebration of our community's many talented artists.
Saturday, June 17
The 18th annual ride offers riding distance options from 10 to 101 miles on carefully chosen routes through beautiful countryside. Riders are treated to great local food at designated rest stops, live music, and after-ride festivities at the fairgrounds.
Friday, July 7
Take yourself back to the good ol' days with our annual Cruisin' Reunion in beautiful downtown Goshen. There will be music, food, and hundreds of classic cars for an evening of good old fashioned summer fun.
Friday and Saturday, August 4
C'mon, we're in Hoosier country – we think you can guess what CornFest! is all about. In this celebration of all-things corn, you're invited to participate our first-ever Corn Hole Tournament and munch on a wide variety of corny snacks. We'll have a beer tent and free concert on the First Fridays stage on East Washington!
Saturday, August 19
After a successful debut in 2015, the 3rd annual Triathlon promises to bring athletes from around the region to Goshen for the event which consists of a 500-yard swim, 15-mile bike, and 5K run.
Friday, September 1
Goshen's VolksFest is an evening full of the things we love most: People ("Volks" is German for people), local food and beer, shopping, live music, family activities, and groovy historic vehicles. In this case, Volkswagens!
Saturday, September 16
Downtown Goshen, Inc. hosts the 9th annual Maple City Walk, a scenic walk through the autumn-kissed countryside along the Maple City Greenway and Pumpkinvine Nature Trail. Choose from 10K, half- and full marathon distances.
Friday, October 6
Ahh, fall. What would this wonderful time of the year be without a homecoming celebration – complete with pumpkins, harvest eats, live music, and dancing? Vibrant downtown Goshen offers all this and more at the annual October Homecoming event.
Friday, November 3
Get your fix of fabulous original artwork during Goshen's annual Arts Tour. The tour will feature exhibits and performances by professional and student artists in downtown stores. You can purchase original art, enjoy live music, be wowed by dance and performances, and shop at a variety of local shops.
Friday, December 1
It's the holiday season! Come warm up and spread the holiday cheer in downtown Goshen during our Hometown Holiday celebration. Find unique gifts for your friends and loved ones at our many retail shops, join a caroling group, and watch the night light up at the annual tree-lighting ceremony.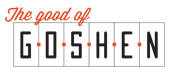 For a comprehensive guide to what is good in Goshen, check out The Good of Goshen web site for stories about Goshen, things to do and places to go.
2017 River Bend Film Festival Sponsors
Blank Space • Bryan Chris Photography • Dick Lehman Pottery • Duley Press • Greensweep Cleaning Services • Ignition Garage • Inn on South 5th • LightBox • Maple City Market • Menno Travel • Mid America Filmmakers • NIBCO • Nimble Wit Productions • The Nut Shoppe